JCB Hercules Fullblood Savanna Buck (DNA)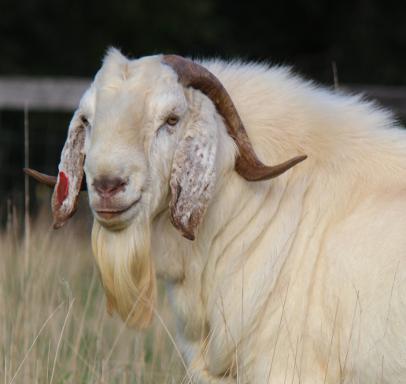 Born 12/21/14 Sire: GCS Catapult Dam: GCS Penny
We purchased Hercules as a 6 month old buckling from Sleepy Hollow Farm. He is a proven asset to our breeding program. His parents ECS Catapult,ECS Penny and grandparents MGF Dollar and ECS Loretta are well known producers in the Savanna lineage. He has been the star of our program and the complete package with model Savanna traits, rugged hardiness, majestic, massive size, docile temperament and passes all this along to his offspring. He is our foundational herdsire and the core of our passion for raising Savanna goats.
ABF Tomahawk Fullblood Savanna Buck (
DNA)
Born 1/12/19 Sire: ITG B43 DAM: ABF 18
We were fortunate to purchase Tomahawk from Ashland Bottom Farm and are very excited to add bloodlines from Indian Territory Farm and foundational lineage from one of the top imports, HV International E525. This young buck has impressive muscle development, brute size and breeding vigor. His first offspring in 2020 were awesome!
SH Nitrous Fullblood Savanna Buck (DNA)
Born 4/4/20 Sire: SH Nemesis Dam: SOS 165 Cat3
We are excited about the addition of SH Nitrous to our herd. Nitrous adds a great lineup of new bloodlines from the NJW lines of the late Jerry Webb a fellow Virginia Savanna breeder that maintained a successful closed herd of strong hardy goats and new Indian Territory (ITG) bloodlines from the Midwest and lines back to the foundation Mincey Goat Farm. Nitrous is developing a nice masculine meaty frame with a pleasant disposition to compliment our select does for the 2022 season.
ECS Nature Boy Fullblood Savanna Buck (DNA)
Born 4/23/20 Sire: JCB Hercules Dam: ABF Roxy
We are pleased with the growth and development of this young Fullblood, son of our own JCB Hercules and ABF Roxy. "Nate" was a standout at birth and continues to impress with his size and structure, black pigment and new breeding vigor. Aaron named this guy Nature Boy because he's got that Flair! Looking forward to his first offspring in 2022.